Dubai is a hub of exquisite dining experiences, with a plethora of restaurants serving up a wide range of international cuisines. Whether you're in the mood for some fine dining or street food, there's something for everyone in Dubai. In this blog post, we'll take a look at some of the top restaurants in Dubai, and why Baofriend Dubai is the perfect option for your next culinary adventure.
Dubai is home to some of the world's most prestigious and luxurious restaurants. From high-end dining experiences to street food stalls, Dubai has it all. If you're looking for an unforgettable culinary adventure, Dubai is the place to be. And if you're looking for a restaurant that offers a unique take on traditional Chinese cuisine, look no further than Baofriend Dubai.
Baofriend Dubai: A Fusion of Chinese Flavors and Modern Design
Baofriend Dubai is a contemporary Chinese fusion restaurant that offers a refreshing take on traditional Chinese dishes. Located in the heart of Dubai, Baofriend is known for its delicious Baos, which are small, fluffy, steamed buns filled with a variety of ingredients. Their menu features a wide range of other dishes as well, including dim sum, noodles, rice dishes, and more.
What sets Baofriend apart from other Chinese restaurants in Dubai is their focus on modern design and presentation. The restaurant's sleek and modern interior design creates a comfortable and inviting atmosphere that's perfect for a romantic night out or a family dinner.
The restaurant's attention to detail is also reflected in the presentation of their dishes. Each dish is beautifully presented, with a focus on colors and textures. From their crispy spring rolls to their succulent Peking duck, every dish is a feast for the eyes and the taste buds.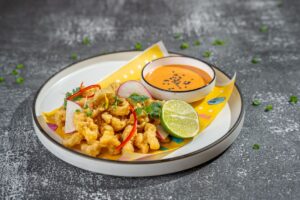 Whether you're looking for a quick bite during your lunch break or a leisurely dinner with friends and family, Baofriend Dubai is the perfect option. The restaurant offers a wide range of seating options, including booths, tables, and a private dining area for special occasions.
The restaurant also offers a catering service for those who want to enjoy Baofriend's delicious Chinese fusion dishes at home or at their event. Their catering menu features a wide range of dishes, including their famous Baos, dim sum, and other appetizers, as well as main dishes and desserts.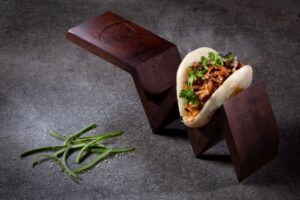 Dubai is a food lover's paradise, with an abundance of top-notch restaurants to choose from. If you're looking for a unique and unforgettable dining experience, Baofriend Dubai is the perfect option. With their delicious Chinese fusion dishes, modern design, and excellent service, Baofriend is a must-visit for anyone looking for a memorable dining experience in Dubai.